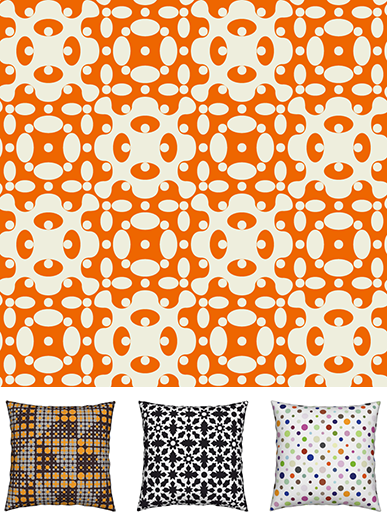 Fabrics and Pillows 06.20.2017

Zuzana Licko is applying some of her intricate pattern fonts to colorful fabric prints. Composed from Puzzler, Hypnopaedia and Tangly, these bold prints are now available as yardage and pillows.

You can choose from a variety of fabric materials, custom printed with Zuzana's pattern designs at spoonflower.

All prints in this collection are also available as pillows, napkins, or wallpaper at roostery.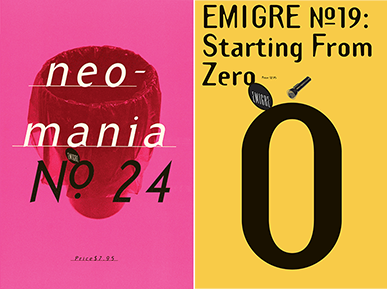 Emigre in the UK 06.19.2017

Two current exhibits in the UK feature work by Emigre.

The University of Reading is staging the exhibit Emigre magazine: design, discourse and authorship. The exhibition, which will run from June 12 to July 14, has been co-curated by Francisca Monteiro and Rick Poynor.

The show is divided into sections that reflect and examine the range of Emigre's activities – Rudy VanderLans as editor; The Emigre type foundry led by Zuzana Licko; VanderLans as graphic author; the Emigre Music record label; Emigre as a space for collaborative authorship for designers and writers; Emigre considered in context. A related essay by Rick Poynor on the influence of Emigre on graphic design was published in Creative Review.

Also in the UK, a number of Emigre magazine issues are included in the wonderful exhibition California: Designing Freedom at the Design Museum in London which runs from May 24 to October 17.

The exhibit explores how the ideals of the 1960s counterculture morphed into the tech culture of Silicon Valley, and how "Designed in California" became a global phenomenon.

Read about California designers Zuzana Licko, April Greiman, and Susan Kare and their influence on a generation of graphics in a review of the show at FastCompany.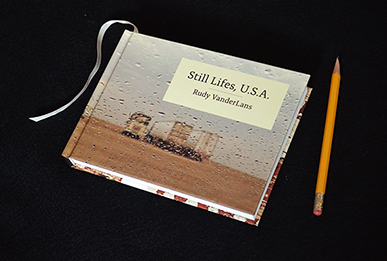 Still Lifes, U.S.A. 06.15.2017

Upon his arrival in the US some 36 years ago, Rudy VanderLans embarked on a pan-American bus trip from New York to California. Overwhelmed by the experience, he rarely took out his camera, feeling unprepared for the challenge to do justice to the visual overload of the American environment.

In 2016 he set out to retrace his route, this time with camera in hand and a determination to record the experience. If the work seems familiar at times, VanderLans is quick to name his influences: "It's through the photographs of Ruscha, Shore, Friedlander, Eggleston, and others that I learned to look at America more discerningly," he says. "I use their examples as a jumping off point to distill my own impressions."

The haunting work that resulted from his journey, titled Still Lifes, U.S.A., published exclusively in book form, creates the second entry in a trilogy of books that began with Still Lifes, California. These postcards from the road evoke both tranquility and solitude, entropy and loneliness in equal measures.

Published by Gingko Press.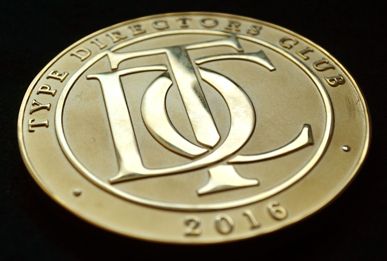 Emigre Wins TDC Medal 07.20.2016

On July 12th we traveled to New York City to receive the 29th Type Directors Club Medal. Over the past 49 years the TDC Medal has been awarded to individuals who excel in the field of typography and typographic design. We couldn't be more proud to be following in the footsteps of our personal heroes Matthew Carter, Erik Spiekermann, Herb Lubalin, Gerrit Noordzij and many other luminaries. The event was held at Cooper Union.

The video of our work, shown during the TDC Medal awards ceremony, was created by:
Creative Director — Graham Clifford
Editor — Danny Ameri (Very Nice Industries)
Music — Mystery of the Plain by Honey Barbara


Here's our acceptance speech:

32 years ago, in 1984, we printed five hundred copies of Emigre magazine #1, and we couldn't give them away, no matter how hard we tried. We had boxes full of leftover copies stashed under our bed for a long time. Fast forward to a couple of months ago, and out of the blue Carol Wahler calls us telling us we won the Type Directors Club medal. What happened in between those two events is like one big blur to us.

But there are some standout moments, and two of them include encounters with design icons from New York. I call them out because they were very important to us and our careers.

Steven Heller was the first person to ever mention Emigre in a short article that he wrote for I.D. magazine titled "Culture Tabs." He's been a huge supporter of our work ever since and opened many doors for us. He's also been a fair critic, never pulling any punches, always speaking his mind. We didn't always agree, but there's no doubt we owe a lot to Steven Heller.

The other icon is Massimo Vignelli. We never actually met him in person, but we got all tangled up when Massimo mentioned in Print magazine in 1994 that he hated our work. Actually, he didn't just dismiss it, he spent a good amount of time explaining why. That hurt our feelings at first, but in hindsight, the fact that Massimo Vignelli mentioned our work at all, made a lot of people pay attention to what we were doing. But the real import of his comments was the serious nature and passion of his critique. That passion was evidence of the heated discussions within design that existed then. And we miss those days.

So we were lucky to be working during a time when design mattered to people enough to speak their mind, and have serious discussions about design, and we feel fortunate to have been the recipient of their scrutiny. This medal notwithstanding, you learn a lot from people who take the time to criticize your work.

There are many other people who need mentioning here, since you don't get to this point all by yourself. Emigre has always been a collaborative project. Many of our typefaces were designed by outside designers. Countless contributors have worked on Emigre magazine. We often feel that too much credit is given to just the two of us. But the list is long and this evening is short.

Finally, we usually tell ourselves that awards like this don't mean much. They won't impress our clients. They won't make it easier to convince people that design matters. It doesn't justify raising our font prices. And I'm guessing that Massimo Vignelli would still be skeptical towards our work, TDC medal or not.

But when you get the call, out of the blue, informing you that you've just been nominated to receive the TDC medal, all that negative thinking evaporates and all you can think about is how amazing this is. And then you read the list of previous recipients, which includes some of the most iconic figures in design, and you're humbled, and you feel a little bit like a fraud, because how can you possibly measure up to these giants? Luckily, we're still alive and kicking, so we have time to catch up, and this medal is telling us we're on the right track.

Thank you very much Type Directors Club, thank you for this incredible honor, thank you Carol for your unending enthusiasm, thank you Graham for producing a wonderful montage of our work, and thank you all for being here.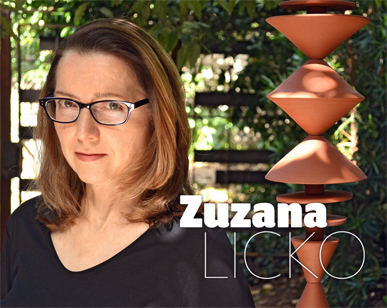 Zuzana Licko Interview 06.29.2016

MyFonts, our top reseller, just published a lengthy interview with Zuzana Licko conducted by Jan Middendorp. She answers questions about her roots, her love for ceramics, her approach to revivals, and how early digital technology inspired much of her type design output.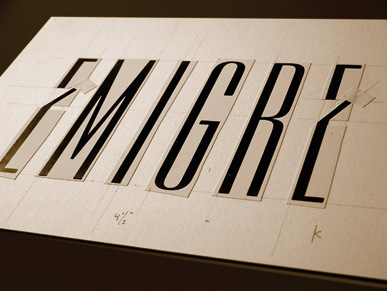 Emigre Donates Archive 06.20.2016

We're happy to announce that we have donated the Emigre archive to Letterform Archive in SanFrancisco. This once-in-a-lifetime decision wasn't easy to make, but was made much easier by Letterform Archive's enthusiastic support and devoted staff. Our donation includes original paste-up boards for Emigre magazine and a complete run of the publication, plus press sheets, audio tapes of interviews, merchandise, ephemera, correspondence, typeface development files, and type catalogs.

We selected Letterform Archive to house and preserve our work because of its world-class type & design collection. It's also easily accessible to the public, it actively promotes itself to the design community, and it's run by knowledgeable and dedicated professionals. We're honored to have our work sit alongside some of the world's best-known graphic design artifacts. Letterform Archive will incorporate this donation into their programs and services, to introduce a broader audience to Emigre's history, and to put the collection online for type lovers near and far.

You can read more about this donation and Letterform Archive's many type-related events, including workshops, lectures, exhibitions, and publications on their website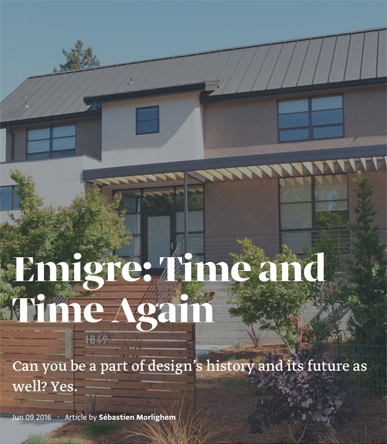 Fontstand Interview 06.15.2016

Check out the interview with Rudy VanderLans about Emigre's legacy and future on the Fontstand website. After more than three decades of activity, how does VanderLans see Emigre in 2016? And how does he feel about the aging of its body of work?

Also, read a well-considered reply by Stephen Coles on his Typographica website in response to Emigre's Fontstand interview.





Fonts for Rent 06.03.2016

After 30 years of saying NO, we can finally say YES! to free font trials through the Fontstand service.

Fontstand is a Mac OS X app that allows you to try fonts for free or rent them by the month for desktop use for just a fraction of the regular price. Even better, if you rent the font for 12 months it's yours to keep.

We are kicking off this new venture by making a selection of the Emigre Font library available through this service, including such long-time favorites as Mr and Mrs Eaves, Filosofia, Matrix, Fairplex and many others.

We're excited to provide this additional choice to use our fonts. Give it a try, and let us know what you think on Facebook or follow Fontstand on Twitter.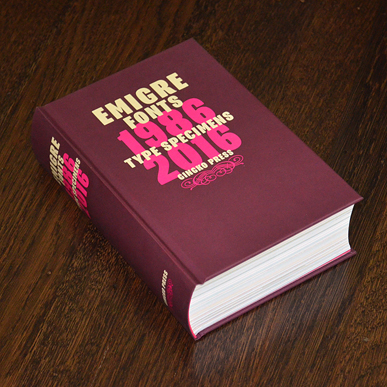 Emigre Fonts: Type Specimens 1986-2016 06.01.2016

Emigre's latest book is a 752-page compilation celebrating the art of the type specimen. The book features reprints of Emigre's most remarkable specimen designs covering a period of 30 years. Besides displaying the virtues of the fonts and revealing the processes used to design them, these specimens go beyond their primary function as sales tools and can be enjoyed as much for the typefaces as for their esoteric content. If your collection of Emigre's popular type specimens is incomplete, or if you've missed out on these entirely, here's your opportunity to catch up.

You can read a review of the book at AIGA's Eye on Design.

Published by Gingko Press Inc. Available in cool bookstores everywhere. Or you can order copies directly from Gingko Press or Emigre.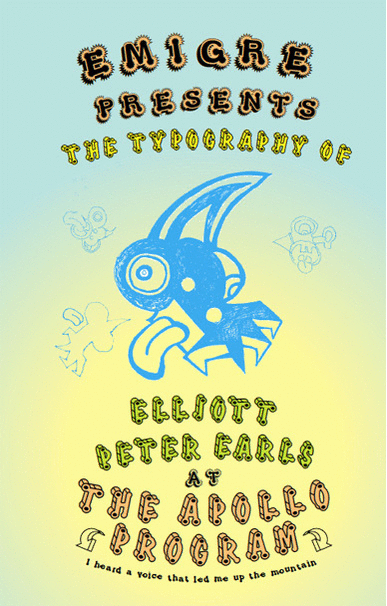 Free Type Specimens 01.11.2016

We've added nine type specimens to our list of free downloadable PDFs!

These catalogs are from the early days of Emigre and include a slightly reconstructed version of our very first catalog of low resolution fonts titled "Digital Fonts" (1986); the original catalog design for Mrs Eaves (1996); and a reconstructed catalog for Base Monospace which was originally published as a poster (1997). The list also includes PDF versions of specimens that have long since sold out for such classic typefaces as Platelet, Keedy Sans, NotCaslon, Poppi, Dalliance, and The Apollo Program.






Emigre Newsletter
You can add yourself to the Emigre Newsletter emailing list. We use the Emigre Newsletter to help keep you informed of new products, services, and special limited offers.